PAUPB - Panafrican Union of Peace Builders
The Pan African Union of Peace Builders (PAUPB) is an international apolitical, non-profit, non-governmental network of individual Peace activists and institutional Peace organisations aimed at
> developing synergy between Peace builders in Africa
and around the world

> promoting the culture of peace in Africa
and its diasporas

> preventing, managing and transforming conflicts in different spheres of social, cultural, economic and
political life

> building the capacities of individuals and organisations engaged in peacebuilding

> lobbying for dynamic and inclusive non-violent conflict intervention ("positive peace") as alternative to violent and static military forces ("negative peace")

Bound by a common and specific set of values and approaches to Peace, the Union is a network of 280 nationals, young and old, men and women, of all relgions from 30 countries currently engaged in community based peacebuilding, civic mediation, social negotiation, peace research, and informing government policies on the promotion and consolidation of Peace and social cohesion in their countries of residence.
PAUPB is guided by its CHARTA founded in OUAGADOUGOU, July 2017, during the 12th Pan-African session of the University of Peace in Africa (UPA): www.universityofpeaceinafrica.org
PAUPB is managed by a moderating and facilitating BOARD Committee, called CAA-Cercle of Animation and Administration, operating with a set of tools from sociocratic, decentralized, self-regulated approaches. See UPABP-STRUCTURE.
CAA-Board Committee is structured in 4 task groups (sub-cercles)
> TO BE (Etre): Vision, Mission, Mentality of PAUPB, Training/Capacity building, Documentation
> TO DO (Faire): Conflict and Peace Analysis, Action/intervention, Dialogue, Synergie, Spreading-out
> TO HAVE (Avoir): Finances, Archives
> TO SHARE (Partager): Communication, best practice learning, link with others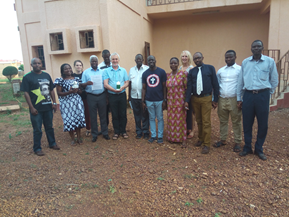 Ouagadougou, July 2017
Workshop on UPABP creation by UPA Laureates from Burkina
Faso, Cameroon, Central African Repubilic, Congo(Brazza),
Ivory Coast, Rwanda, Germany and Belgium
Y O U
the UPA Laureat
from all Campus
since 2003,
please feel invited
to become our member
Join us at the
UPABP Secretariat
based in Bafoussam,
Cameroon facilitated
by CIPCRE (internat.)

ca.upabp@gmail.com
and upa@apte-net.de
____________________
VISIT our PROGRAM
INOVAR (clic here)
= Intervention NOn-
Violente Active et
Rapide (en Afrique)
Teams of panafrican Peace Builders join local activities in direct intervention for several months at selected communities: deses-calation, conflict mana-gement, mediation.
2010/11 Burundi,DRC
2014/16 CAR/Cam
2016/22 RCA